THE STORY OF THE TRUTH CARDS™
We are Willow and John, close friends who met in London and have woven through each other's  lives for nearly 30 years.

Willow grew up in England, born of Irish parents. She's been married twice and has two children with a fifteen year age gap between them.

She worked in consumer research, advertising and innovation then ran her own Ltd company for many years. Meanwhile she trained and worked as a multi-disciplined Life Coach and Therapist while reading over 3,000 books. She became a Sunday Times best selling author with her own three spirituality/self-help books, published in 14 countries and 8 languages.

Willow discovered that you can't find your own Truth without understanding where truth comes from. She had to be willing to explore Truth at a level beyond the everyday, even when the outcome was at odds with her own or others expectations or outside of her comfort zone.

She also found that you can't create something as powerful as The Truth Cards without the involvement and guidance of spiritual/Universal Energy. This meant that Willow had to open up to her inner guidance and her ability to channel so that the truth of what we were creating had integrity.

In her work today Willow is renowned for having the gentlest yet most powerful x-ray vision and skills. She helps people get to the core of their issues and make deep, positive changes in their lives by focussing on their inner Wisdom and their true-selves.

John is a Londoner through and through. He's happily married, a father of five girls, a grandfather of six and a partner/owner of a City accountancy practice dealing with all aspects of finance.

John's powerful ability to connect people to their true path, his creative and visionary solutions and his financial insights make him invaluable to his clients. He sits on the board of many companies as a non-executive director and raises large amounts of money for charity. Everything he does is infused with his core wisdom and insight that comes from his connection to his higher self.

While enjoying our connection we have always known that this friendship had a bigger purpose. Even before we met we both loved Oracle Card Decks and we have always used them in our personal lives and at work.

Our vision was to create an updated system to connect to Universal and inner wisdom for answering questions about the issues faced by every day people in today's world. To create something that stopped yourself or other people getting in the way of what you did or didn't want to hear. To give you access to what isn't always easily accessible.

We set out to create a card deck that didn't require an expert to interpret the messages. Cards that anyone on any level could use to gain clear, strong answers that they could feel the truth of. Answers that are sufficiently personalised and bespoke to your question, that don't ask you to give your power to someone other than yourself.

It took us a twenty year journey of revision, redesign, breakthroughs, personal and product transformation and a lot of life lived. We wouldn't give up until the cards worked as well as they do now. The result was The Truth Cards, the powerful divination tool they are today.

We make no bones about it, we love The Truth Cards and we truly believe in them. We see their existence as an act of service to the modern world. Never again will you have to live without easy access to the truth within you.

The Truth Cards carry a blessing. May you grow to love them as we do and truly benefit from the power of truth in your life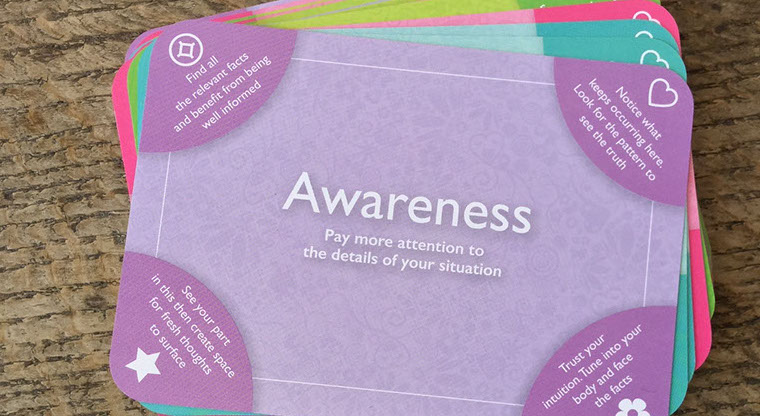 The Butterfly
The butterfly is a key element of The Truth Cards as it symbolises the transformation and growth you can achieve by following your own truth.
Moving from a caterpillar to a butterfly represents coming into your full potential – your true self.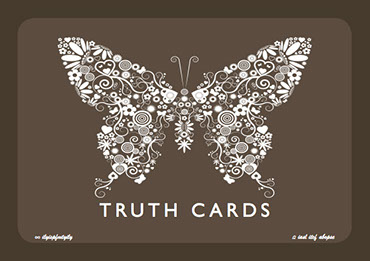 The caterpillar is guided by its true self into a profound transformation.
By embracing its truth the butterfly emerges triumphantly. 
When you follow your truth to become more authentic, you also transform and grow wings. Such is the power of Truth. 
The Truth Cards™ create magic in my day. I love them'
'Knowing my own truth gives me power in my life'
'I love using these amazing cards. They make me stop and think, they help me to understand'